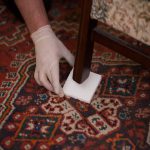 Usually, a need for hiring carpet cleaners in Eccleston arises when a simple sweep just doesn't cut it anymore. It becomes even more of a necessity when you can't allocate proper time to carry out the cleaning process. When you're pressed for time on a daily basis, some things can become neglected and if not taken care of accordingly, can lead to some serious cases later on, especially health wise. There's a solution for every problem and at Melling Carpet Care, we provide solutions for your carpet cleaning woes. You can go about your day while we take the necessary steps to leave you with a clean carpet so you and everyone around you can enjoy the benefits.
Outside the domestic sector, the commercial area can also benefit from these services. In Eccleston, carpet cleaners have the expertise to clean up carpets in office spaces as well. Because carpets hold dirt and dust, leaving them unclean can lead to flu and colds, leaving both employers and employees in a position of not working at an optimum level. This can reflect on the business returns of the day and in general. The business will end up suffering and the morale of the employees will also be affected. By using one of the two methods of carpet cleaning, that is, hot water extraction or low moisture cleaning, our team will leave your office space carpets looking good as new and dust-free. We'll ensure to have them dry off properly in order to prevent mould growth or affecting the integrity of the material because of being damp.
Since 1994, our carpet cleaners in Eccleston have been providing services that go above and beyond our customer's expectations. This has enabled us to become one of the leading carpet cleaning companies in Liverpool. Contact us today and see for yourself why this is so. We have full insurance and offer a money back guarantee should you not be satisfied with our work. We also have the expertise to clean rugs, material and leather upholstery as well as curtains. Whether you are a shop or house owner, we're more than happy to offer our services.