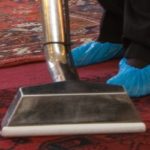 Our professional carpet cleaners in Bickerstaffe help to extend the life and beauty of your carpet. Ours is a local, family-run business, with more than two decades' experience in carpet care, leather and upholstery cleaning. We use environmentally friendly products and the latest cleaning equipment. Our team has the necessary skills, experience and training to give you quality service every time. No matter what the size, age, quality and material of your carpet, you can trust us to do a great job. Before we start, we make sure that we do a thorough assessment. This helps us to understand the   condition of the carpet and material we have to work on.
For your carpets in Bickerstaff, carpet cleaners on our team make sure that there is minimum disruption to your daily schedule. We can work according to your own convenience, on weekdays or weekends too. For deep stains and domestic carpets, we can use hot water extraction. Also known as steam cleaning, this is a good option to remove dirt and debris that have penetrated deep into the carpet. Carpets are a breeding ground for micro-organisms, bacteria, fungi and allergens. If you have pets, kids and seniors in the house, spills, accidents and mud stains are a given. It's important to ensure hygiene and cleanliness to avoid allergies and disease. Hot water extraction leaves the carpet fresh, odour free and soft. If your carpet is relatively clean, we can use low moisture cleaning or dry cleaning.
Our professional carpet cleaners in Bickerstaffe  can ensure spotlessly clean carpets. Though routine cleaning takes care of most of the dirt on your rugs and carpets, it's wiser to get a professional job done occasionally. While vacuuming or brushing helps to remove animal hair, fluff, or dust, you won't get that pristine, fresh look and feel. Soiling in high traffic areas can be removed. We make sure that your valuable carpets stay safe from harsh handling and products. Contact Melling Carpet Care for more information about how we can assist. Furthermore, we clean both carpets in both domestic and commercial buildings.