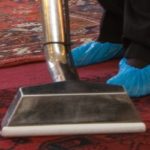 At Melling Carpet Care, we provide professional carpet cleaners in Kirkby for several reasons. After all, we would not be promoting a service we didn't believe in. Naturally carpet cleaning makes your carpet look and feel cleaner which may be the primary reason most people have their carpet cleaned. However, there are other important reasons for regular professional carpet cleaning. Your carpet traps dirt, pet dander, dust mites and whatever people bring in on their shoes. All of these are allergens that can trigger upper respiratory problems like asthma, allergic reactions and headaches. Carpet cleaning cleans out all that dangerous carpet debris and steam cleaning will destroy the dust mites. If your carpet is subjected to humid weather, dampness settles in the carpet fibres and mould can grow causing odours. Many are allergic to moulds.
As you can see, there are important reasons for regular carpet cleaning besides just looking clean. Consider also that in Kirkby, carpet cleaners will prolong the life of your carpet. Embedded dirt and grime wears out the carpet fibres quickly. The experts say have your carpet professionally cleaned twice a year and if you have kids and pets quarterly cleanings might be best. You want to hire a professional carpet cleaner that knows their business. At Melling Carpet Care, our family has been cleaning carpets and upholstery since 1994. There have been a lot of new innovations in carpet making and cleaning solutions. Our company stays current with proven new techniques.
For professional carpet cleaners in Kirkby, remember Malling Carpet Care. We use one of three methods depending on the carpet you have. Hot water extraction is the most common method we use. For busy commercial areas, low moisture is the cleaning method of choice so downtime is kept to a minimum. We can dry clean if necessary. Contact Melling Carpet Care when you're ready for a professional carpet clean. Our techniques are proven to get dirt and stains all the way out with powerful extraction equipment. We leave your carpets clean and soft and the indoor air sweet smelling and free of allergens.