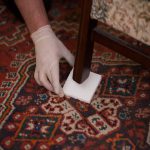 Carpet cleaners in Liverpool can spell the difference between a healthy rug and one filled with dust mites, pet dander and other allergens. Carpets add a touch of warmth to the space they adorn. However, just like the floors, they need a good vacuuming on a daily basis and a thorough cleaning twice a year. Ignoring the maintenance of your carpet will result in a rug that appears worn out and aged. Carpets that are not cleaned regularly will need to be replaced sooner rather than later. The best solution for all your carpet woes is to hire a carpet cleaner.
For homeowners in Liverpool, carpet cleaners are available at Melling Carpet Care. We are the leading specialists when it comes to cleaning carpets. At Melling Carpet Care, we can clean different materials of carpets, effectively and safely. Our team relies on three methods: hot water extraction, dry cleaning and low moisture cleaning. The hot water method is one of the best and most popular treatment choices. It is ideal for both domestic and commercial carpets. The dry cleaning method is used in cases where the carpet fabric is delicate and susceptible to colour migration or shrinkage, such as with Persian rugs. We use the low moisture cleaning method on office arrears such as carpet tiles. Our cleaning procedures are comprehensive and proceed in a step-wise manner. The entire process starts with a thorough vacuuming to get rid of loose dirt. Then a cleaning solution is applied to the carpet. Using a mechanical machine, we agitate the carpet so that the cleaning solution reaches into the carpet pile. Then we proceed with our extraction machine to suck out all the dirt. If necessary, stubborn stains are also treated.
If you've got dirty carpets, contact your local carpet cleaners in Liverpool.  Give Melling Carpet Care a call today to discuss your options and to request an affordable quote. Let us breathe new life into your carpet.