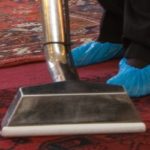 Search for professional carpet cleaners in Liverpool as the end of the year approaches. It is recommended that carpets receive a thorough and professional cleaning at least once a year. With the Festive season almost on us, you are will undoubtedly receive guests over the holidays. Having spotlessly clean carpets will likely impress your guests. There are, of course, other important benefits to having your carpets deep cleaned. While you may believe your carpets are clean with the regular vacuuming they receive, dust mites, dust, and pet dander get embedded in your carpet. These aren't easily seen, and it takes a professional carpet cleaner ensure your carpets are thoroughly clean.
Make an appointment with a reputable carpet cleaning company before your in-laws arrive for the holidays. In Liverpool, carpet cleaners are available from Melling Carpet Care. We know that thorough carpet cleaning will not only leave your carpets clean, and fresh smelling, it will also prolong their life and appearance. We use the extraction method, and this can significantly increase the life of your carpets, and will protect your investment. All types of carpets can be cleaned thoroughly and professionally with the methods we use. Using three different types of methods – the hot water extraction method, low moisture cleaning and dry cleaning, your carpets will be safely and effectively cleaned. The first method of choice is the hot water extraction method, and it is the only method endorsed by Shaw Industries, the world's largest carpet manufacturer. We only use the correct method for the type of carpet to be cleaned and can assure you of the best possible results.
Carpet cleaners in Liverpool will ensure that your carpets are clean and fresh smelling long before your guests arrive. A family business, first established in 1994, we continue to provide an efficient and professional carpet cleaning service to all our clients. If you need the services of carpet cleaners before the onset of the holidays, contact Melling Carpet Care. Our team of experts are regarded as one of the leading carpet cleaners in the area. Let us clean your carpets so you can enjoy your time with your holiday guests!