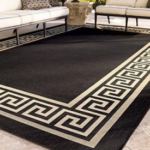 For carpet cleaning in Bickerstaffe speak to the professionals, Melling Carpet Care. Since 1994, our family-run business has been providing carpet and rug cleaning services that go above and beyond the norm. Your rugs and carpets will be cleaned accordingly in order to avoid damage and to have them lasting and looking as good as new for longer. We take care of your carpets as if it was our very own. By hiring our services, you save time on having to do it yourself and ensure a more thorough job is done. Not everyone can allocate ample time to handle this task, usually only being able to do a simple sweep. This is where we come in.
Depending on the type of carpet you have, we employ three different methods in order to complete the task the best way possible. In Bickerstaffe, carpet cleaning is dependent on the type of carpet that has been installed as well as the location. For instance, extreme cases of carpets where shrinkage and colour runs are likely are cleaned using dry cleaning. This way, the colour remains intact and the size of the carpet is not altered. Large office arrears and carpet tiles are most likely cleaned using the low moisture cleaning method. However, our first to-go-to method of carpet cleaning is the hot water extraction method, the only method that is recommended by the world's largest carpet manufacture: Shaw Industries. We use this method mainly for domestic jobs although we also use it in a lot of our commercial jobs as well.
Whatever method is required, carpet cleaning in Bickerstaffe follows a comprehensive series of steps in order to attain the best results. From vacuuming to spraying a cleaning solution followed closely by agitation and extraction of the dirt as well as treatment of stubborn stains, your carpets will be looking good as new in no time. Contact Melling Carpet Care for expert carpet cleaning services. We also clean curtains and upholstery, both material and leather. We have full insurance and offer a money back guarantee should you be unsatisfied with the work carried out.