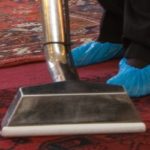 The services of carpet cleaners in Knowsley are highly appreciated by those looking for spotlessly clean carpets. Even though your carpets are regularly vacuumed, they are not as clean as you would like them to be. With ingrained dirt and pet dander hiding deep in the fibres of the carpet, it is not as clean as it could be. That's when you can use the services of professional carpet cleaners. We offer a range of carpet cleaning services at great prices.
For our clients in Knowsley, carpet cleaners are available for a once-off clean or on a regular basis. We have an excellent reputation for providing professional carpet cleaning services that are efficient and pocket-friendly. Our carpet cleaners are highly trained and work to high standards. We use carpet cleaning methods that are recommended by Shaw, the largest carpet manufacturers in the world. When we clean your carpets, you'll know they are really clean. Not only will they look good, but they will also smell fresh. We use the most appropriate cleaning method for your carpet. The methods we choose from are the hot water extraction, low moisture cleaning and dry cleaning. The most popular method and the most appropriate for most carpets is the hot water extraction method. This is also our preferred method as it will deep clean your carpets, removing even the most ingrained of dirt.
Carpet cleaners in Knowsley enjoy a fine reputation for providing carpet cleaning services that meet and surpass our clients' expectations. Known as one of the leading carpet cleaning companies in Liverpool, we take great pride in our high standard of workmanship. If you are looking for professional carpet cleaners to clean your home's carpets, be sure to contact Melling Carpet Care. With our hot water extraction method of cleaning carpets, your carpets will soon look as good as new. This method involves a thorough vacuuming of the carpet, the agitation of a cleaning product deep into the fibres of the carpet and the flushing away of all the dirt with our extraction machine. We believe you will be pleased with the results.