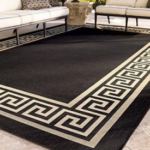 Using the services of professional carpet cleaners in Kirkby will ensure thoroughly clean carpets. We bring many years of experience to our clients. Our expert team use the safest, most effective cleaning methods to deep clean your carpets. The hot extraction, which is the method we use for most carpets, deep cleans your carpet and that's what we all want. This method means you can walk on carpet within an hour or two. There is no residue to attract dirt either. Our products and cleaning methods are created for today's carpet fibres that stand up to wear. In fact, our hot water extraction method is endorsed by Shaw Industries, the world's largest carpet manufacturer.
For your home, or for your business, our services will meet your requirements. In Kirkby, carpet cleaners for all types of carpet have the perfect solution for your carpets. On occasion, we use the hot extraction method for commercial carpets because the downtime is minimal. However, since some commercial properties use carpet tiles, we have a low moisture cleaning solution. You can walk on it right away and while it's a very effective cleaning system, it's gentle on carpet tiles. We can use this method of carpet cleaning by simply closing off and cleaning a section at a time while you continue to serve your patrons.
Our carpet cleaners in Kirkby have a cleaning solution for all types of carpets. Our dry cleaning methods are very effective on carpets that would shrink if the wet method of cleaning is used. However, our expert team will first decide on the most appropriate cleaning method for your particular carpets. For more details, or to schedule a carpet cleaning session, contact Melling Carpet Care today. We also offer a money back guarantee. On top of that, we are also fully insured. When you use our carpet cleaners for your carpets, you can be sure that, not only are they spotlessly clean, but they will smell and feel great too.