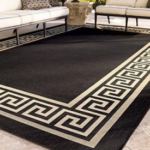 As carpet cleaners in Parbold, we at Melling Carpet Care suggest seasonal cleaning for your carpets. Regular scheduled cleanings are especially helpful for busy families whose carpets see heavy use. Singles and couples may find that once a year is sufficient for them but two or three cleanings a year for family homes is best. The timing of those cleanings are up to you but we've found seasons to be a good guideline. The end of summer is a good time because of heavier traffic kids at home, frequent entertaining and less time for general cleaning. Carpet cleaning in early winter, just before the winter holidays, readies your home for decorating and entertaining. Throughout the winter holidays with school breaks, entertaining and sloppy weather there is heavy use. The house has been closed and a spring carpet cleaning will freshen the air and get rid of trapped odours.
Melling Carpet Care uses hot water extraction for most domestic carpet cleaning. For our commercial customers in Parbold, carpet cleaners low moisture system is often preferred for the quick dry feature and it's more effective on carpet tiles. Hot water extraction is the recommended method of most carpet manufacturers. This method also is quick drying so your family is not inconvenienced. There are some who still believe cleaning wears out your carpet more quickly. Actually, the exact opposite is true. Embedded grit in carpets damage carpet fibres, breaking them down so the carpet becomes matted. When we clean your carpet, we use cleaning solutions that leave no residue behind to attract dirt. Our extraction method is so effective that nothing, not even odours, are left behind.
Carpet cleaners in Parbold clean your carpets safely and thoroughly. You will see and feel the difference. The natural loft and softness returns making your carpet look like new. Colours are vivid again after cleaning but there are other benefits you may not see. The air in your home will smell fresher because it is. Carpets hold dirt but they also hold dust mites and other allergens. We can remove most stains not removed by regular cleaning by using specially formulated stain treatments. Contact Melling Carpet Care for a free carpet cleaning estimate. Our technicians are experienced and knowledgeable in all types of carpets and cleaning processes.