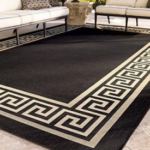 Melling Carpet Care is known for our carpet cleaning in Wigan and enjoy our large customer base of both domestic and commercial customers. Much of our business is repeat since we've been established in the area since 1994. We are grateful, so many trusts us with their carpet care. We can't emphasise enough the importance of regular carpet cleaning to extend the life span of your carpeting. Don't think because you bought a budget brand of carpet, it can't withstand cleaning. The man-made fibres used in carpets are strong even though the density may not be as thick as pricier carpets. Grit and dirt shorten the life of carpet which is more reason to clean it frequently. Even a house full of budget carpet is expensive and needs care.
Expensive carpets, commercial carpets, area rugs and budget priced whole house family carpets are safely cleaned the same way. In Wigan, carpet cleaning is successfully completed using hot water extraction.  We work our emulsifying solution into the carpet to loosen dirt, grit, food particles, animal dander, dust mites and stains. Then using our powerful extraction machines we pull all that debris and the accompanying odours from your carpet. You may think your carpet doesn't look soiled but stick around while we extract it and you will see some dirty water. Once we finish cleaning, the whole room smells fresher and because our extractor pull all the water out, the carpet is ready for use with an hour.
We use a low moisture cleaning method for commercial carpet cleaning in Wigan, especially carpet squares and a dry cleaning method on carpets that might shrink or colours that may run. We know our carpet fibres and we always test your carpet for shrinking or fading before we use any cleaning method. We are careful to do the job right. The change of season is a great time to clean your carpets and freshen the inside air. Contact Melling Carpet Care for an appointment and we will provide you with a no obligation quote for cleaning your carpets. Our prices are fair and we give good value for money. Think of us for your upholstery and curtain cleaning too.