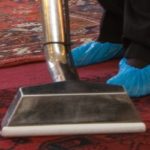 Our carpet cleaners in Wigan will transform your old and poorly maintained rugs and carpets into visually-pleasing and healthier flooring. Carpets can accumulate a lot of dirt, allergens, bacteria and whatnot over the course of time, and for the health reasons, it's recommended to carry out in-depth cleaning, which is very different from regular vacuuming, every once in a while. At Melling Carpet Care, we have different types of equipment to carry out a thorough and exhausting cleaning session, ensuring that all the dirt, odour, stains, pet hairs are removed completely from the carpet. Our personnel are also well-trained in the field and will treat your carpets accordingly.
We start the cleaning process with a comparative study, noting down all the areas which are most soiled and high-traffic. In Wigan, our carpet cleaners will proceed with the most common technique known as Hot Water Extraction, which is very effective in removing dirt and particles that may or may not be visible to the naked eye. However, if you have carpets that require different approaches, don't worry, our team will make sure to use the appropriate approach so that your carpets are treated in a way that they won't be damaged or ruined. Furthermore, with all the solutions that we use, your carpets will have a pleasant smell after we are done. We specialise in both domestic and commercial work, and we are fully able to provide ad-hoc and contracted services. We have full insurance and in the rare event that you are not fully satisfied with the job done, we will gladly return your money.
You won't regret hiring professional carpet cleaners in Wigan for a cleaning job at home or at the office. When you are looking for professional carpet cleaners, contact Melling Carpet Care. Another perk is that it doesn't take too long to dry, so we won't be causing too much of a halt in your routine. In addition to this, we will move any furniture if required, to cover all carpeted areas.