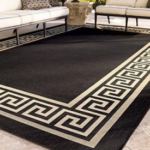 Carpet cleaners in Kirkby are now easier to locate. At Melling Carpet Care, we'll have your carpets clean and looking good as new in no time. Having clean carpets prevents dust and germs from accumulating as doing so could lead to colds and flu. Additionally, stains leave carpets looking unsightly, which can be embarrassing for the owner. Quality carpet cleaning takes care of all the dirt and debris and goes further to reach areas that a normal sweep or vacuum may have missed. Our team specialises in both domestic and commercial work, so whether you need a carpet clean in your apartment or in your office, shop, church, pub and even restaurant, we have got you covered.
Melling Carpet Care uses various cleaning methods, with each method tailored to the situation at hand. In Kirkby, carpet cleaners on our team use three methods of cleaning, which are hot water extraction, low moisture cleaning and dry cleaning. The Hot Water Extraction method is the only one recommended by Shaw Industries, the world's largest carpet manufacturer. This is therefore the method we use for most cleaning jobs in both the domestic and commercial setting. Low Moisture Cleaning is done on large office arrears, especially those that have carpet tiles. We reserve using dry cleaning for the most extreme of cases where shrinkage or colour runs could be a problem. Whichever method used, we use a comprehensive cleaning procedure in order to achieve the best results. We first carry out a thorough vacuum to get rid of any loose dirt, and then proceed to spray a cleaning solution on the carpet. It is able to penetrate deeper into the fibres by agitating it with a machine. We then use an extraction machine to get rid of the dirt and the pre-spray and the go ahead to treat stubborn stains if any. This method guarantees spotless carpets every time.
When you need carpet cleaners in Kirkby, do not hesitate to contact Melling Carpet Care today. We are also experts of upholstery cleaning, including leather and even curtains. We have full insurance and offer money back if you are not totally satisfied with the work carried out.