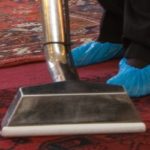 If you are looking for carpet cleaning in Maghull, you have come to the right place. Melling Carpet Care is renowned in Liverpool and the surrounding areas as one of the most trusted, efficient and convenient carpet cleaning services around. We not only provide excellent carpet cleaning services, but we will also clean rugs, curtains, leather and more. Our speciality is carpet care so let's break down some of the ways we get your carpet looking as good as new again.
For homeowners in Maghull, carpet cleaning doesn't get better than Melling Carpet Care's professional and thorough approach. There are three main ways we deep clean your carpets and the most commonly used method is hot water extraction. Firstly, we will do a standard vacuum of the area to get rid of large dust and dirt particles, as well as agitate the deeper layers of the pile. Then we will saturate the carpet with a cleaning solution that will soak deep down and cling onto the remaining dirt. The last step is to flush a high powered hot water jet through the carpet while simultaneously sucking the wastewater up into the catchment tank. This is the most effective way to clean the average carpet and is the only method approved by one of the largest carpet companies in the world, Shaw Industries.
Hot water extraction isn't the only method of carpet cleaning in Maghull however, we also offer low moisture cleaning which aims to reduce saturation and maximise cleaning. This method is perfect for larger spaces with carpet tiles such as an office or a shop floor. The last method is seldom used but is still highly effective – dry cleaning. This is only done in cases where there might be colour run-off or carpet shrinkage. If you contact Melling Carpet Care today, we will be able to advise you on which method will most suit your space. Whichever method we use, you will have a carpet that you can be proud of.