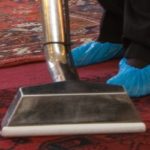 You need our carpet cleaners in Kirkby to carry out an annual thorough cleaning of carpets and soft furnishings.  Many people feel that having a carpet cleaned is only for when there are stains on the carpet but it goes far deeper than that. Dirt and allergens accumulate in the carpet but generally go unseen. It also prolongs the life of the carpet as dirt tends to break down the carpet fibres when walked on. Most carpets are cleaned by hot water soil extraction machines in which the equipment sprays heated water and chemicals onto the carpet. This is worked deep into the carpet to lift the dirt. It is simultaneously vacuumed up along with the dislodged and dissolved dirt. Many carpet manufacturers recommend this as the preferred method of cleaning their carpets and advocate it being carried out at least once a year for the longevity of the carpets and the health of the occupants.
A thorough deep cleansing of your flooring is necessary especially if you have children or pets. In Kirkby, carpet cleaners can make your home healthier as well as cleaner. Many allergens that cause asthma and allergies are found in carpets. You may find your family suffer from sneezing, runny or stuffy nose, red, itchy or teary eyes, wheezing, coughing, tightness in the chest and shortness of breath or itching. This could be caused by the dust in the carpet. No matter how much you vacuum you cannot get rid of dust so easily. A thorough clean is necessary to remove the dust and make your family well again.
We supply some of the best carpet cleaners in Kirkby. Contact Melling Carpet Care today and book an appointment for one of our team to visit your home.  If your family suffer from allergies it is a good idea to clean all the upholstery and curtains in your house as well. All the fabrics in the home will collect dust and only a thorough cleaning will remove it. Although the carpets dry quickly in most weather a lovely summer's day with warm breezes will help them dry even quicker. Let us give your home a thorough cleaning from top to bottom at a reasonable price.