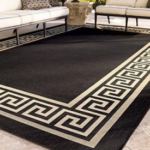 Carpet cleaners in Prescot have the knowledge, skills and experience to clean almost any carpet. You may be wondering what the fuss is about, after all, you clean your carpets on a regular basis. You may vacuum them so they look good, but are you sure that they are really clean? Carpet fibres make wonderful homes for microbes and pet dander. These cannot be easily seen, but they can cause bad smells, dull-looking carpets, and allergies. Perhaps it is time to get your carpets thoroughly cleaned by a professional team of carpet cleaners. It is recommended that you have your carpets professionally cleaned at least once a year.
Soapy water and a scrubbing brush may work for dirty floors. However, in Prescot, carpet cleaners use a number of different methods to ensure your carpets are thoroughly clean. We use three different methods and will choose the one that is best suited to your carpets. These include the hot water extraction method, low moisture cleaning and dry cleaning. The method most often used, and as it is the only method suggested by the world's largest carpet manufacturer, we use it the most for most domestic carpets as well as some commercial carpets. This is hot water extraction. It entails a few simple, yet effective steps. Vacuuming is the first step, to ensure all loose debris and dirt is removed. This is followed by spraying a cleaning solution onto the carpet which is then agitated deep into the pile. After which the solution and any dirt are thoroughly flushed out using our powerful extraction machine. This will leave your carpets looking and smelling like new.
Carpet cleaners in Prescot are professionals. With many years of experience, attention to detail and offering an excellent quality service, they are the people to rely on for thoroughly clean and fresh carpets. For more details on how our carpet cleaners can assist you, contact Melling Carpet Care today. We have been established in 1994 and continue to provide the excellent quality services we are known for. We have full insurance and offer a money-back guarantee as well.