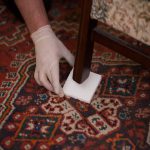 Hygiene and freshness guaranteed when you hire the best carpet cleaners in Aughton from Melling Carpet Care. We're delighted to assist you with all your carpet, rug, upholstery, leather and curtain cleaning requirements. As one of the leading services in the region, we have the experience, expertise and equipment to handle both residential and commercial carpet cleaning projects. We are so confident of our services that we provide a money back guarantee if you're not 100% satisfied. Our workmanship is fully insured against damage or loss, so our customers can enjoy complete peace of mind when they entrust their items to us. We have the skills and experience to clean all types of carpets and rugs, both natural and synthetic.
We use safe and eco-friendly products. In  Aughton, carpet cleaners should be chosen with care. There may be several companies that offer cheaper rates, but we believe that it's worth paying the right price to protect your precious floor coverings and upholstery. Our rates are sensible and practical, and geared to match the budget of the communities we serve. Carpets are the best way to turn a house into a home, and also provide a touch of class to your office. They represent a long term investment, and can often be passed down the generations as a legacy inheritance. This depends on how well they've been taken care of and what kind of treatment and cleaning they've been subjected to.
While choosing the right carpet cleaners in Aughton, ensure that they are members of professional organizations such as NCCA, Woolsafe or Trustmark. They must be fully insured, trained, experienced and provide referrals. Ensure that they use environment/pet-friendly cleaning products and that they tidy up after the job. Contact Melling Carpet Care if you're looking for professional carpet cleaners.  Vacuuming them regularly keeps the dust, dirt, insects microbes and animal hair at bay. What carpet-owners fear the most is spills and stains from coffee, tea, wine, paint, blood, mud, fruit and veg juices. The trick is to gently clean from the outside inwards, as soon as possible. Oil stains can be removed with baking soda, which also doubles up as a deodorizer.