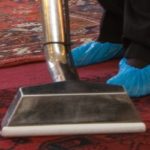 Achieve a clean, tidy look with our professional carpet cleaners in Bickerstaffe. Many people do not clean carpets as frequently as they should. If you have pets or a member of your family has respiratory problems, you should get your carpets professionally cleaned more frequently. With the number of stains, dust, filth, and other things that a carpet gathers over time mere vacuuming will not be able to clean it properly. Professional carpet cleaning is crucial for protecting your family's health and minimising allergens in addition to helping you create a clean, organised look. Professional carpet cleaners have extensive training in their industry and are knowledgeable about the best products to use on various types of carpets.
Regular carpet cleaning helps to curb health issues that may arise from a dirty one. In Bickerstaffe, our carpet cleaners deal with all types of carpet safely and effectively. We provide three different cleaning techniques: dry cleaning, low moisture cleaning, and hot water extraction. Hot water extraction is the only method recommended by Shaw Industries the world's largest carpet manufacturer. On household carpets and for a large number of commercial contracts, we primarily employ this technique. We always adhere to the best and most appropriate process for the task. For the best results, we use a thorough, systematic cleaning process.
Maintain your health and reduce allergic reactions at home with the help of professional carpet cleaners in Bickerstaffe. We are experts in safely and successfully cleaning any type of carpet or rug. We also have exceptional skills in cleaning and caring for leather or fabric upholstered furniture and curtains that you would prefer to have cleaned while still hanging. Call Melling Carpet Care now for more details on our carpet cleaning services. If you are not completely happy with our services, we provide a money-back guarantee and full insurance. Our carpet cleaning crew specialises in household and commercial services for businesses including offices, shops, pubs, churches, estate agents, rental agents, end-of-tenancy cleans, and restaurants.