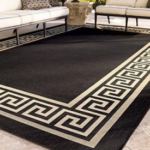 You may schedule a rug cleaner in Aigburth because your rug is dirty. That's a good reason but there are others. When you schedule a rug cleaning with Melling Carpet Care, you can count on a thorough cleaning. You may not notice minor food spills or pet dander but they do give off an odour over time. Grit embedded in your rug will gradually begin to break down fibres, causing worn spots to develop. Melling Carpet Care removes the odour, grit and allergens which helps to clean air in the room as well as the carpet. Your colours in your rug will be brighter and you will be able to smell the freshness. Periodic professional rug cleaning will extend the life and beauty of your rugs.
You may own valuable Persian, Chinese or Aubusson rugs that you are reluctant to trust to carpet cleaners. In Aigburth, rug cleaner Melling Carpet Care has been established since 1994. We have experience with these treasured rugs. The first thing we do is test your rug to be sure the colours do not run and there is no shrinkage. Surprisingly, most can be cleaned using one of our usual processes. However, if the colour seems unstable we have a specially formulated solution that cleans well. We start with a thorough vacuum, spray on the cleaning solution, work it into the rug then extract the dirt and cleaner from the rug. Sometimes that procedure requires a second repetition. The damp rug is turbo dried and the pile groomed for a fresh look.
Melling Carpet Care is a most experienced rug cleaner in Aigburth. Your carpets, rugs, furniture and drapes are safely cleaned so they will last for years. Rugs can be cleaned at your home or we can bring them to our warehouse for cleaning. It's your choice. Contact Melling Carpet Care and tell us what kind of rug you have to be cleaned. We may be able to give you a quote over the phone. You will find our prices fair regardless of the cleaning method. We can use hot water extraction, low moisture or dry cleaning. Our work is insured and your satisfaction is guaranteed.