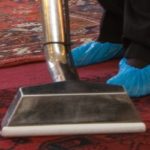 The services of a professional carpet cleaner in Lydiate will make sure that you have spotlessly clean carpets, and rugs. It is likely that you vacuum your carpet on a regular basis, but are you sure it is clean? It most probably looks clean, but have you considered the dust and dirt that is trapped inside the fibres of the carpet?  A dusty and dirty carpet can be a source of allergens and irritants to those who suffer for allergies like asthma and eczema.  Having your carpet regularly cleaned will help reduce the severity and discomfort of allergies.
Regular carpet cleaning can do wonders to a room. In Lydiate, our carpet cleaner will ensure that your carpets look and smell good. We at Melling Carpet Care take great pride in our professional cleaning of carpets. We use different methods to ensure a perfect clean. The method we prefer to use is the water extraction method. It is the only carpet cleaning method recommended by the world's largest carpet manufacturers, Shaw Industries. This method of cleaning is suitable for use on most carpets.  We also use the low moisture cleaning, ideal for large carpets such as those in large office areas or for use on carpet tiles.
Call on a carpet cleaner in Lydiate to have your carpets thoroughly cleaned. We follow rigorous procedures to ensure your carpet is properly and expertly cleaned. Firstly, we vacuum the carpet to remove any loose dirt. Thereafter the cleaning solution is sprayed onto the carpet, and it is mechanically agitated deep into the pile. Using our powerful extraction machine, the pre-spray and accompanying dirt is completely flushed out. Contact Melling Carpet Care today for more information about our carpet cleaning services. For fresh smelling and spotlessly clean carpets in your home and office, speak to the professionals in carpet care.