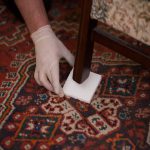 Find professional carpet cleaners in Lathom  after the holiday season. You may have neglected to have your carpets cleaned during the past year, but now is the time to have them spotlessly clean and fresh smelling. We can offer our services to clean your carpets, sofas and chairs as well as curtains and rugs. It is recommended that your carpets are deep cleaned at least once a year. This is especially true of you have a busy household with children and pets. Our team uses three different methods for cleaning carpets. These include the hot water extraction which is recommended by the world's largest carpet manufacturer, low moisture cleaning which is most often used on commercial carpet tiles and dry cleaning which is used on carpets and rugs where shrinkage or colour migration may be a problem.
There are many benefits to having your carpets professionally cleaned. In Lathom, carpet cleaners will remove all the dust as well as the dirt in your floor coverings. While carpets are soft and luxurious to walk on they will, over time, collect dust. This often encourages dust mites. These are a known allergen that can cause asthma and other allergic reactions. When your carpet is thoroughly cleaned, the mites, dirt and dust are removed. This makes your home a safer environment for those who suffer from allergies.  Not only that, but clean carpets will smell and look as good as new.
Choose the best known and respected carpet cleaners in Lathom. For more details on how our carpet cleaners can assist you, contact Melling Carpet Care today. Schedule a booking for our services. As one of the leading carpet cleaning companies in the area, we take great pride in our excellent services offered at excellent prices. We have many years of experience in cleaning all types of carpets. The different methods that we use ensure the best possible outcome for your carpet. Another plus is that our cleaning methods also allow your carpets to dry in the quickest time possible.