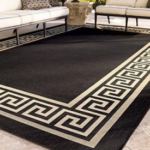 A professional company offering rug cleaning in Lydiate is the best way to ensure that the rugs in your home are spotlessly clean. A shake of the rug and a quick vacuum does not mean that your rug is clean. Dust, debris and pet dander can embed deep in the rug and while you think it may look clean, it is likely not. Rugs that haven't had a thorough, deep clean are also likely to start smelling odd. If you want to protect your investment and ensure your rugs are properly clean, speak to our expert team.
We have offered our rug cleaning services to our clients for many years. In Lydiate, rug cleaning procedures are carefully followed to ensure that your rug is both thoroughly cleaned, and is not damaged in the process. We have experience in cleaning all types of rugs, including both Chinese and Persian rugs. Our rug cleaning methods are tried and tested, and produce wonderful, clean and fresh smelling results. First we use our industrial strength vacuum cleaner and give your rug a thorough vacuum to remove any loose dirt. The rug is then pre-sprayed with the appropriate cleaning agent. The pre spray is agitated deep into the rug to completely break down any dirt particles. Thereafter an extraction machine is used to rinse the dirt and pre spray out of the rug. Should there be any stubborn stains, we treat these and repeat the extraction procedure to ensure all possible dirt and stains are removed. Lastly, we reset the pile with a carpet groom and turbo dry your rug.
Rug cleaning in Lydiate is a service at which we excel. Once your rugs have been cleaned by our expert team, we believe you will appreciate how your rug's beauty is restored. If you would like to request a quote for rug cleaning, contact Melling Carpet Care today. We are pleased to offer a money back guarantee if you are not satisfied.  First established in 1994, our family run business has provided our clients, many of whom are returning clients, with top class rug and carpet cleaning services at affordable prices.